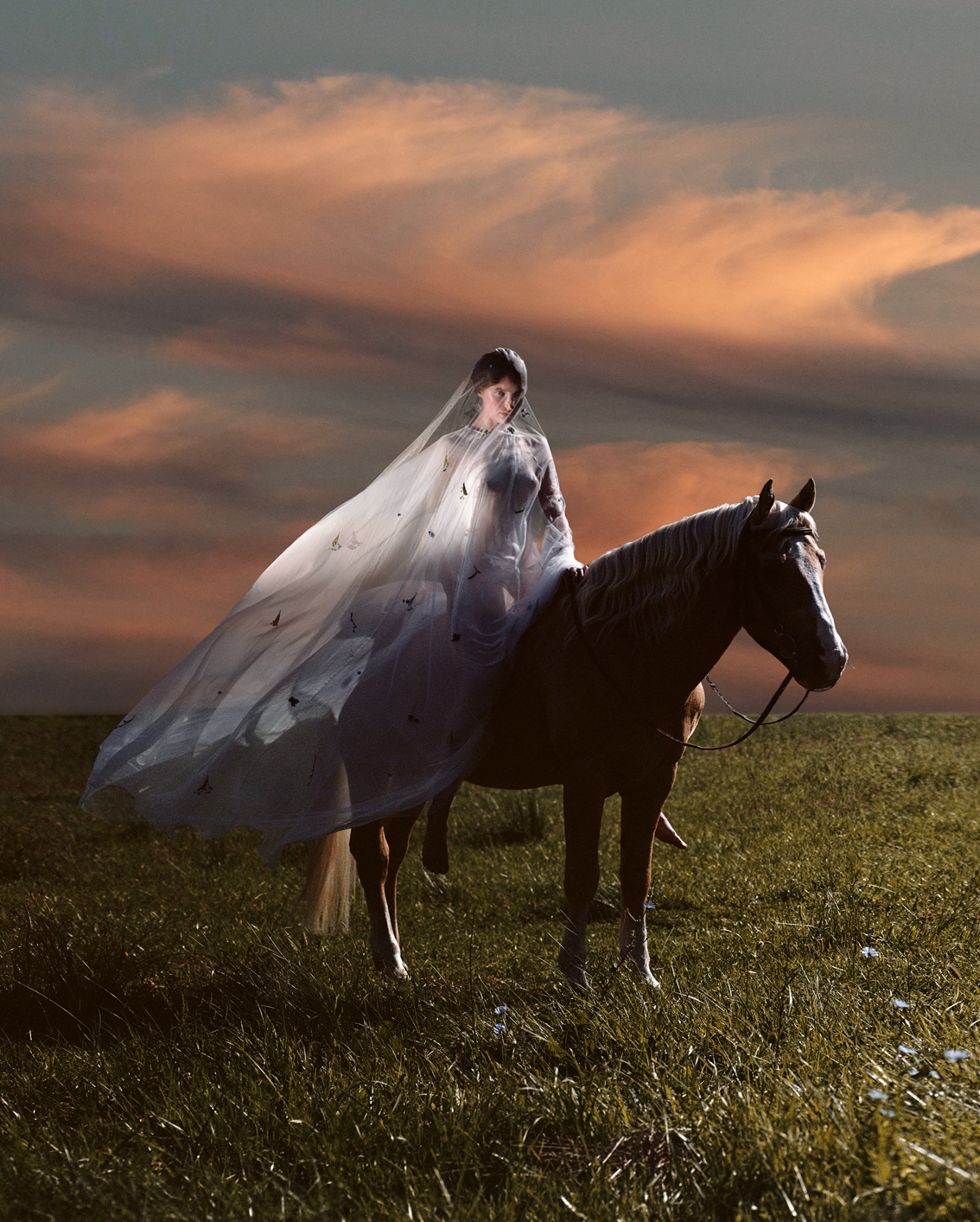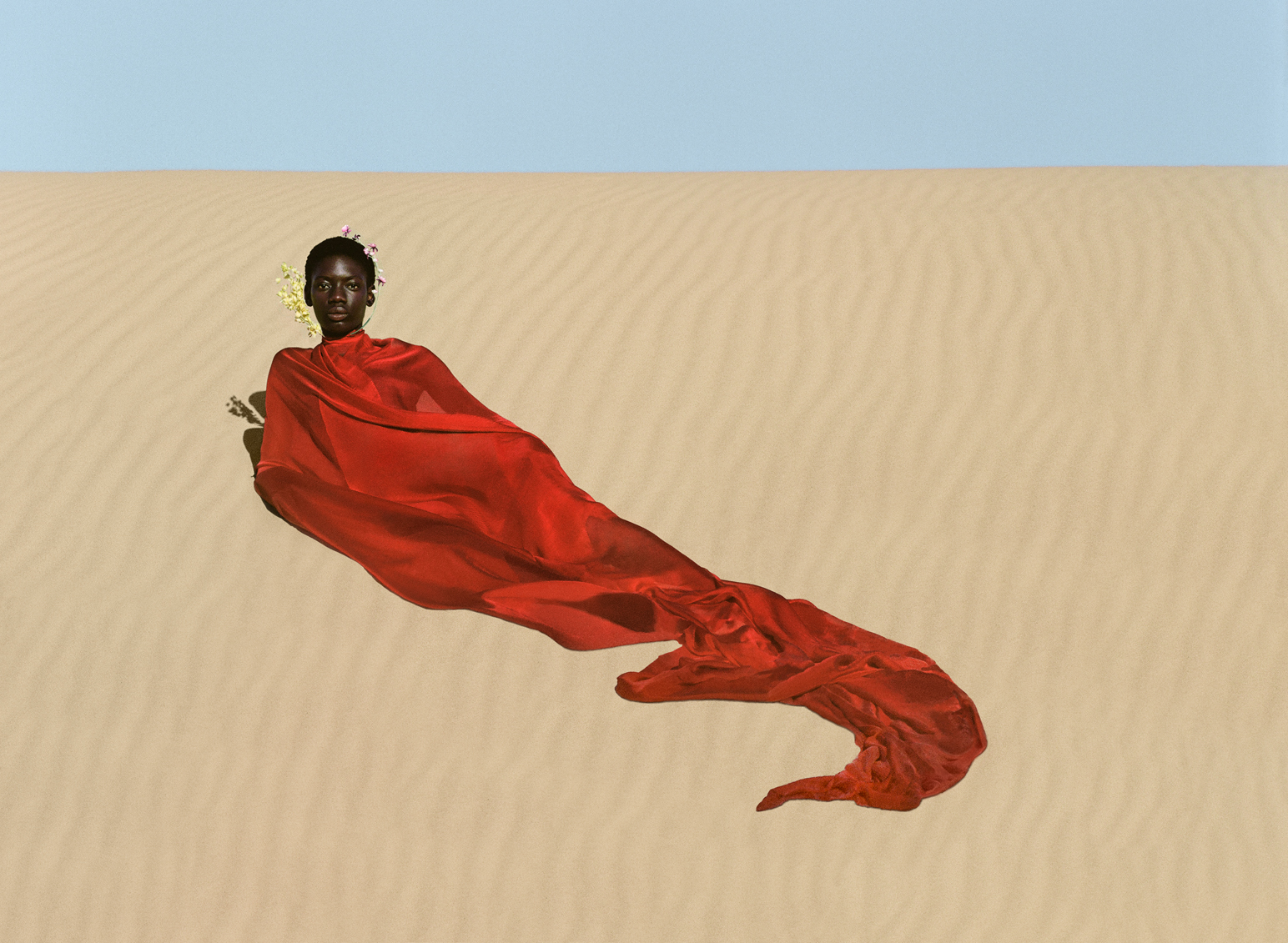 TSVIT

Ruslan Baginskiy

The poetic art project 'TSVIT' is a collaboration between the brand and two talented Ukrainian artists, photographer duo Synchrodogs and stylist Julie Pelipas.
The 'TSVIT' couture collection is a cultural experiment, the experience of restoring forgotten manufacture technologies that were considered archaisms, and their introduction into the modern agenda. "The global lockdown made it possible to slow down, look around, give ourselves time to learn. I was always inspired by the energy of local workshops, where knowledge about ancient techniques has been kept for generations. There is almost no place for them in the world of high speeds, I want to preserve their artisan heritage," says Ruslan.
Each of the seven pieces is a tribute to Ukrainian culture: the straw mask is a rethinking of the cultural codes of the 19th and early 20th centuries, when one of the most spectacular decorations for the bride was a wreath made from the remains of the harvest; gold jewelry created in collaboration with the Rockah. brand - a deepening into the history of the Scythians, known for their jewelry craftsmanship, a separate source of inspiration for Ruslan was the work of the Volyn weaving masters of Khustka-namitka.
Floristic motives - as one of the key elements of culture and art - add symbolism to collections and connect tradition to the agenda of the new day. Pansies and forget-me-nots, adorning a long veil, symbolize fidelity, yellow forsythia flowers - the personification of purity and spring awakening, which the world needs so much; the cherry blossom in the decor of the straw mask is associated with brides, traditional Ukrainian mallows on a golden tiara are created from recycled plastic bottles as a protest against the hyper-consumption culture. The theme of recycling and upcycling is one of the major, some materials for the collection were collected at vintage auctions and markets.
The idea of the unity of human and nature is consonant with the work of the photo duo Synchrodogs, thanks to which the collaboration turned out to be very organic. Shooting a couture collection is an expedition to the most beautiful and untouched places in the country: "Working on campaign we tried to find natural environment that would correspond the brands mood, would be clean and exquisite at the same time. We feel there is a synergy between Synchrodogs and Ruslan Baginskiy brand in a way that we both are perfectionists and do not like to do something average, so we both worked in the same direction to create visionary, that would be remembered by viewers, and would look really beautiful, - say Tanya Shcheglova and Roma Noven. - We especially love the shot with sun rays and fog: not only we love the results, but the process looked magical as well. And it was one of those shots you put a lot of effort to achieve, so it is of a special value for us".
PHOTOGRAPHER & CREATIVE DIRECTOR: SYNCHRODOGS,
Artistic duo Tania Shcheglova & Roman Noven
STYLIST: Julie Pelipas
STYLE ASSISTANT: Daria Krevska
MUA: Olga Ostapchuk
HAIR: Pavel Lotnik
PRODUCER: Marina Sandugey-Shyshkina
MODELS:
Alexandra Halichieva
Bonnie P
Valeriia Merzlikina
Glowre
Polina Bykova
Sergiy Kakula
https://ruslanbaginskiy.ua/